Ableton Live – online lessons
From: £19.00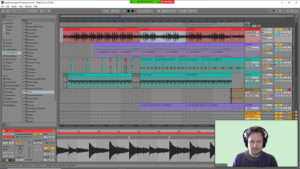 £19/hr
Lessons for any ability level and learning outcome with studio founder Dave House, aka The Reverse Engineer, who has been using Ableton Live since 2005 and teaching since 2012. Book your session via the calendar below!
Dave is an Edinburgh-based musician, sound artist and audio engineer. His music been featured on BBC 6Music and Radio 3 and he performs regularly in and around the city. If you'd like to discuss anything with him before you book, please get in touch.
Please ensure you have a Zoom account and the app installed ahead of your session. If you don't have Ableton Live installed you can get the free 3 month demo or buy it. We can run through installation as part of your lesson if you need help.