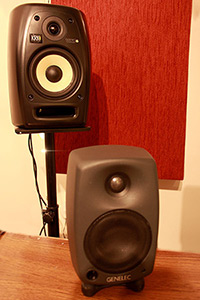 There's a wide choice when it comes to recording studios in Edinburgh, so finding a professional setup that also provides a relaxed and comfortable environment at an affordable price can be tricky. However, at The Noisefloor this is exactly what you get – an inspiring, state of the art setup for music lovers of all types.
We're the most affordable sound studio in Edinburgh! Become a regular member and you can access our facilities for as little as £5 per hour. The Nosiefloor is dedicated to sound and music and we're here to help musicians, sound designers and sound artists hone their talent in the best possible surroundings.
A unique DIY approach
If you have grounding in music and production you don't always need an expensive recording studio with an engineer on hand. However, a rehearsal space won't necessarily provide the right gear or a soundproof environment. Apply your knowledge and creativity your own way at a price you can afford by booking time at The Noisefloor – just turn up, plug in to our industry standard equipment and concentrate on your work. You can also interact with other artists, build your network and share skills in a professional environment. If you're just starting out then dedicate some time to experimentation – you won't regret it!
Something for everyone
DJ's, bands, artists, sound designers, producers, vocalists… anyone involved in audio creation will benefit of our facility. You bring the skills and creativity, we provide a professional recording studio which is also ideal for electronic production and rehearsals. If a live performance is just around the corner come and hone your set in our specially treated room. For those times when you simply want to jam with your friends and not worry about being too loud, book a session that suits you now – we're open from 8 am till midnight every day.
Payment Flexibility
Professional recording studios can be expensive, but our unique approach at The Noisefloor means you can afford to hire studio time. Open a Pay As You Go account, pay on demand, or opt for our incredible value monthly membership. Remember: the more you use, the less you pay.
Get in touch
Don't take our word for it, though – read our client testimonials or come down yourself to check the setup. Call 07594 245521 or email dave@thenoisefloor.co.uk to arrange a visit.